Jurassic World: Dominion Dominates Fandom Wikis - The Loop
Play Sound
Test Drive Unlimited 2 (abbreviated as TDU2) is a 3D open world racing video game developed by Eden Games and published by Atari. It is the ninth main installment of the Test Drive series, and the second after Test Drive Unlimited to be marketed as part of the open world Unlimited franchise.
Test Drive Unlimited 2 includes a variety of roads in an open world environment consisting of two islands, having dynamic weather effects and day and night cycles. The game features sports cars and bikes based on models from a handful of manufacturers, as well as four wheel drive SUVs.
The game's story revolves around an unknown racer who is offered the chance to enter a series of tournaments to eventually become the winner of the fictional Solar Crown Cup upon defeating a number of opponents in various racing events.
The game would be followed by a direct sequel in the form of Test Drive Unlimited Solar Crown, announced in 2020.
Story
The unnamed main character is a driving valet for famous Solar Crown host Tess Wintory. After a party sequence at Cala de Sant Vicent, Ibiza, Tess has been informed that one of the contestants of Solar Crown has withdrawn, so she gives the protagonist a chance to take his place. After introducing them to the media, Tess introduces the protagonist to Todd Bishop - the Classic Racing School driving instructor - who takes players to a used car dealership where they purchase their first vehicle.
Gameplay
Experience Points
To progress through the game, players has to earn experience points to level up through the sixty levels. These points can be earned via four categories:
Competition - racing, completing challenges
Social - making friends in the game, racing against other people, joining clubs
Discovery - discovering all roads, taking photographs of specific locations, finding all car wrecks
Collection - buying vehicles, houses, furniture, clothing/and other needs
Exploration
As a new feature, players can walk around using a first person camera in their houses, vehicle dealerships, shops, and clubs.
A new meter called F.R.I.M. is present in freeroam, and players can earn a small amount of money depending on how they drive. If the player is to drive at medium to high speed near another vehicle, they will get a small amount of cash, usually under 500 cash per pass. Players can try to chain passes, and hit the "accept" button to accept his/her cash, then start a new chain.
Exploring the islands lets the player find vehicle wrecks, which will unlock vehicles on the islands.
Single Player Challenges
Players will go through events in the Solar Crown competition, consisting of challenges in varying race disciplines, although to compete in each car class, players will have to go through racing schools. Also present are various missions available in each island, as well as photo spots.
Multiplayer Challenges
Test Drive Unlimited 2 has a similar online mode to the previous game; free roam driving. During free roaming, up to eight players can join a session at the same time. The ability to walk is also present in the new racing lobby, homes and shops. When waiting for every player to be ready to race, cars of the other players can be examined. Also, players can use co-driving to be in the seat of another player's car to show or be shown different shortcuts. Players can also join together to form clubs.
The game's online servers went offline in November 2018.
Traffic and Police
If players continuously hit traffic vehicles their traffic offenses bar will go up, and eventually cops will chase them, using tactics including roadblocks and EMP. Players reach different outlaw levels if they manage to evade chases.
In multiplayer, players may play as cops upon getting a call from the police in order to chase other players committing traffic offenses.
Avatar
The player's avatar can be altered slightly by changing hair, clothes, and facial features. Co-op also features in the game, in which friends can be a passenger in the player's car until they decide to leave or the player decides to kick him out.
Locations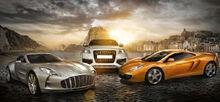 The game is set in an open world environment consisting of two islands: 
Ibiza - One of the Balearic Islands, in Spain
O'ahu - One of the Hawaiian Islands, in the United States of America
Both islands have been modelled using satellite data, and each has both asphalt roads and off-road routes, translated to roughly two-thirds of all roads being asphalt roads, and the total amount of road exceeds 3,000 kilometers, or 1,864 miles. Dynamic weather effects as well as 24-hour day and night cycles are present in the game.
Although O'ahu was re-introduced from the first Test Drive Unlimited, the roads on Hawaii have been modified to make the location interesting again for those who played the previous game, as well as being renewed graphically to stay up to date.
GPS
Returning from Test Drive Unlimited is a GPS feature, which can help players to locate points of interest, drive through the islands, as well as bookmark places.
Players are required to first discover roads and spots upon driving to them to be able to teleport to these previously accessed places in the map.
Houses
As in the previous TDU game, players has to purchase houses in which they can store their vehicles, as well as accessing a number of options, including photo album, character clothes, and a news section consisting of weather, news, and help. Various types of houses are available in both islands.
Airports
Players start in Ibiza, and are given access to the island's airport upon reaching level 10. Airports on each island allow players to travel between the two locations. Upon driving to them a cutscene shows the character taking off as a passenger on a plane, and then flying to the other island. Airports have modelled interiors which, like car dealerships and other locations, allows online players to interact with other online players in the same location.
Spots
Spots for Avatar
Spots for Vehicle
Vehicles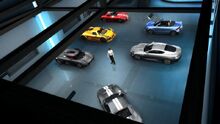 The game features popular European sport cars such as the Bugatti Veyron and a select few classic cars such as the Ferrari 250 GTO. Lamborghini does not make an appearance in the game this time, unlike in the previous Test Drive Unlimited, although various manufacturers return, such as Pagani and Alfa Romeo.
Additional cars as well as motorcycles would be made available as downloadable content. Motorbikes can not be tuned or upgraded in this game, unlike in the previous entry in the series. The Ferrari 458 Italia is exclusive to the PlayStation 3 and Windows versions, whilst the Spyker C8 Aileron is only available in the Xbox 360 version.
Cars are split into three main categories: Classic (C), Off-road (B), and Asphalt (A). Classics are split into C4 and C3, Off-roads are split into B4 and B3, and Asphalts are split into A7 to A1.
Purchase
As in the previous game, each car is available in their respective dealerships, and players can choose various details whilst purchasing their new vehicle, including wheels, body colour, interior colour, as well as stitching.
Customisation
The player's vehicles can have visual customisation applied to them at Stickers Shops, which includes paint and decals. Players can also customise their vehicle's performance (Acceleration, Speed, Braking) at Tuner Shops, which also includes rim changes.
Downloadable Content
The game received downloadable content including enhancements, gameplay content, as well as various paid vehicles.
TDU2: Casino Online
Eden Games made a Casino expansion available, in which players can enter online casino games, having the chance to win prizes including cars.
Pre Order Bonuses
With the release date being pushed back for the game, Eden Games has made bonuses for those who would like to preorder Test Drive Unlimited 2. People who preorder from different sites would get different bonuses such as cars. These sites include Gamestop, Atari, Walmart, Amazon, Best Buy, Kmart, Direct 2 Drive and Steam.
Aston Martin DBS Carbon Black Edition
Camaro Synergy Special Edition
Pagani Zonda Tricolore
Jaguar XKR Speed Pack & Black Pack
Aston Martin V12 Vantage Carbon Black Edition
Ferrari 612 Sessanta
Caterham Superlight R500
Bugatti Veyron 16.4 Super Sport
Audi RS5 Coupe
Ford Shelby GT 500
Casino Online
Soundtrack
Test Drive Unlimited 2 features two in-game radio stations - RoadRock and Hariba Radio - each broadcasting different music genres. The game's radios feature radio presenter comments as well as fictional advertisements between songs.
Achievements
Reception
Critics complimented the map, atmosphere, mixture of open-world and online interactions with the single-player competitions and the free roam, and criticised the various bugs of the game, the character models, voice acting, story elements and vehicle handling. On Metacritic, the PC version of the game received an aggregate score of 72/100, the PlayStation 3 version a score of 70/100, and the Xbox 360 version a score of 68/100. OnGameRankings, the PC version was the highest ranked. The PlayStation 3 version scored 70.04%, and the Xbox 360 version scored 68.30%. According to an Eden Games employee, as of May 2011 studio internal estimated sales for Test Drive Unlimited 2 were put at roughly 900,000 units sold.
Media